Fixed Clear Braces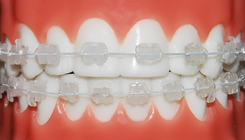 At Grosvenor House Orthodontic Practice we offer a range of clear braces for straightening your teeth and giving you the best smile possible. These appliances work in the same way as traditional metal braces and are just as effective in gradually moving and straightening your teeth, whilst being more discreet than conventional braces.


Frequently Asked Questions
It is likely to be sore for about 3 – 5 days each time the brace is adjusted. If necessary, painkillers such as the ones you would normally take for a headache may help (please read the instructions on the packet). If the brace rubs your lips or cheeks, you will be given some wax to help with this.